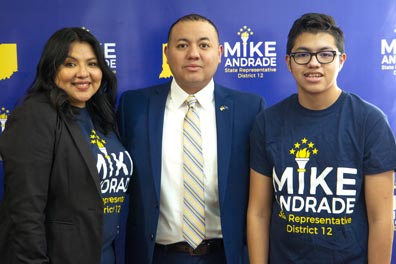 Mike Andrade is a proud family man and entrepreneur. He is married to his wife of nineteen years, Jackie, and he is a proud father to his son, Caleb. The Andrade family also has a beloved Shitzu named Oddie.
Politics has always had a special place in Mike's heart. Mike Andrade grew up in Pilsen and quickly realized his interest in politics. Mike volunteered on several campaigns and learned the inner workings of how campaigns run.
After he left Pilsen as a young adult, he decided to venture into Corporate America. During his time in Corporate America, Mike was able to work on large, domestic, and international projects and more importantly learned that we must bring people together in order to achieve our goals.
Several years ago Mike found a greater calling and decided to open his own small business in Northwest Indiana. Guided by the work ethic he learned from his parents, Mike has been able to create detailed budgets, meet strict deadlines, and developed the leadership skills required to run a successful small business. It is from these experiences and leadership skills that Mike is well equipped to proudly represent Indiana's 12th district.